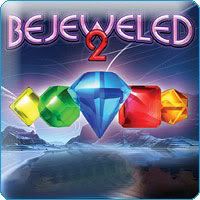 If you liked the first Bejeweled than you will really love Bejeweled 2. You know the rules. You simply exchange one gem for another color and match 3 or 4 gems together for points. It's a little like Tetris but even more addictive to me.
In Bejeweled 2 the graphics are better and will absolutely blow you away. This could make the game even more addictive but playing it was so much fun I could not stop. The gems just sparkle like crazy and the backgrounds are very pretty with all new graphics as well. And just wait until you go to the next level in Bejeweled 2 because you will see a cool little graphic design. In this new sequel there are 2 special kinds of gems. There is a power gem that will explode into a million pieces when you match it with 2 other colors and it takes out all of the surrounding gems at the same time... kind of like a grenade.
If you are able to put 5 gems together you will create what is called a hyper cube and it wipes out all of the gems of that same color. Pretty cool!
Here is a video how the Hyper Cube works on Bejeweled 2:
There are 4 different game modes that go along with the new game and they make it even easier to play again and again. These four modes are classic, action, puzzle, and endless. If you love any kind of matching game you will think the 2nd version of Bejeweled is even better than the first one. I love being able to switch to the other game modes whenever I want.